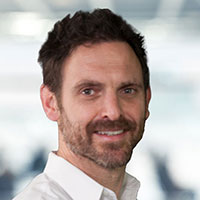 James Allen
Co-editor, New World Investor
Let's get you on board…
To steal a march on the hordes!
And separate yourself from other investors – by getting true intelligence on the unstoppable rise of Climate Tech stocks.
In New World Investor you'll be getting my #1 investment recommendations, every month…
To reap all the possible upside from the flood of money beginning to hit this white-hot sector.
Forecasts are not a reliable indicator of future results
Alongside me will be my colleague, and co-Editor, Kit Winder.
We believe New World Investor will put you in the top 1% of the most informed investors in the world.
And I believe the earlier you get in on the stocks on my buy list, the bigger the opportunity to profit.
A TORRENT of investment capital is hitting this market… and we're already starting to see some exceptional companies riding this trend make big moves:
Like Freeport McMoran, 147% in just over a year
Lithium America Corps, which hit 853% in 22 months
Adani Green, which surged 580% over 24 months
Past performance is not a reliable indicator of future results
These are some of the best examples from this market, not companies that I've personally invested in.
But it's just the beginning.
NEW investment opportunities open up every day that could give your wealth-building ambitions a huge boost.
Remember, Bloomberg predicts this sector will surge to a value of $53tn in the next 3 years, referring to this opportunity as a 'gold rush'.
It's THE financial story of our times.
The market-shaking events of the last few years have only added MORE urgency.
The pandemic and resulting shortages exposed an unsustainable global supply chain.
And the war in Ukraine and resulting gas and oil price explosion make it clear: we need renewable solutions.
Just DAYS into the war, a slew of pledges and policy changes hit the headlines like this, from the FT:

Money is moving into this sector at a pace and scale the world has NEVER seen.
And I can show you how to position your investment capital now to catch the maximum possible upside to come.
Our #1 stock to buy now, which we believe could triple your stake inside the next 24 months.
Forecasts are not a reliable indicator of future results
NOW is the time for action.
So, let's not waste any time here…
Let me quickly re-cap everything you get the moment you come on board: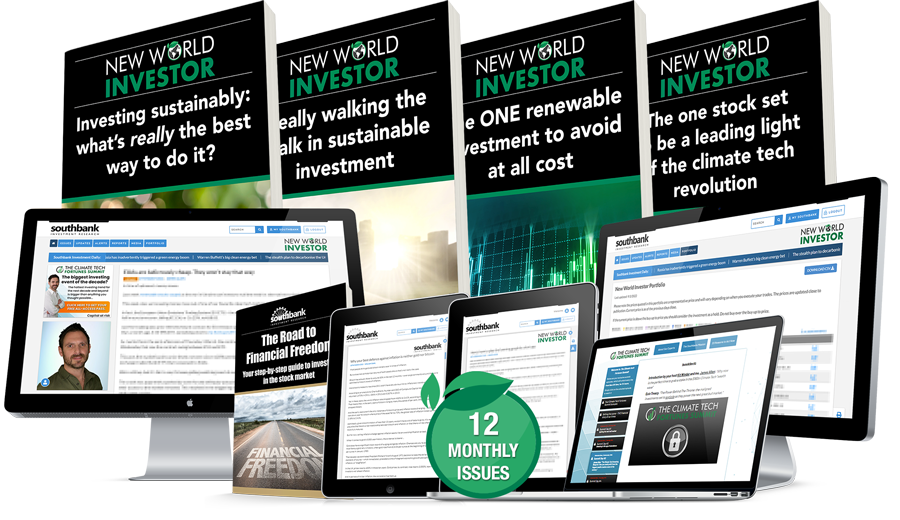 INAUGURAL ISSUE OF NEW WORLD INVESTOR:
Including your 4 Climate Tech investments to make today. (Value: £50)
INVESTMENT BRIEFING #1: Investing sustainably: what's really the best way to do it? (Value £50)
INVESTMENT BRIEFING #2: The ONE renewable investment to avoid at all costs (Value: £50)
INVESTMENT BRIEFING #3: Really walking the walk in sustainable investing. (Value £50)
INVESTMENT BRIEFING #4: The Road to Financial Freedom. (Value £50)
UNRESTRICTED access to The Climate Tech Fortunes Summit (Value: £400)
ELEVEN future issues of New World Investor, each containing market-leading analysis and detailed recommendations. (Value: £199).

The value of this Climate Tech wealth building bundle is more than £850, but it's all yours today when you claim your membership to New World Investor.
You'll also get instant access to not one, but TWO more expert-written investment daily e-letters – FOR FREE.
Southbank Investment Daily
An unmissable, daily email keeping you up to speed on all the important financial and political changes in the world that matter the most. You'll know what's happening – and how it affects your money.
Exponential Investor
A daily email dedicated to bring you cutting edge investment ideas right at the start of the adoption curve. Exponential Investor gives you the tools to understand what the world will look like in 5 years, 10 years and beyond.
And it is all yours when you join me today.
If you can act quickly, you can activate your membership at a huge discount, too:
Move now to save £120
To mark the launch of New World Investor, the only investment advisory of its kind in the UK…
I'm letting members claim a £120 discount.
We've been preparing this important moment for almost a whole year. And we want to bring as many ambitious investors along with us for the ride.
In my view, grabbing a stake in this market eruption is the most urgent investment idea in the world right now.
So, I really do not want price to be an issue here.
That's why I have arranged for you to side-step the full membership price of £199…
And claim a year's membership for just £79.
That saves you 60% instantly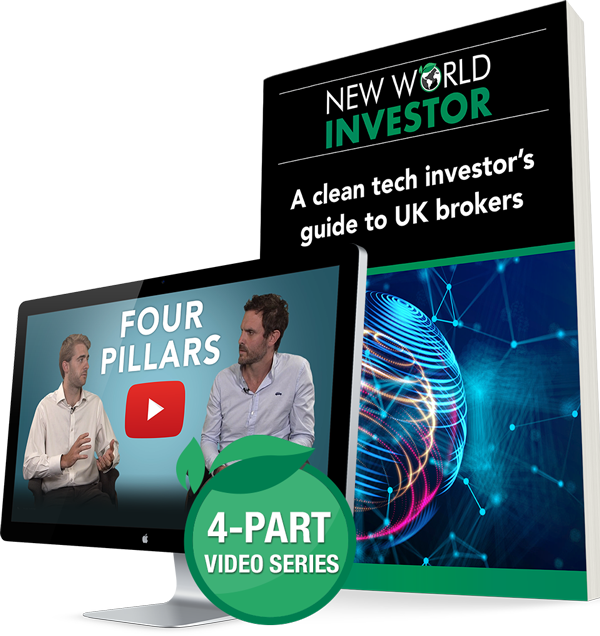 Plus, if you select a 'Premium Subscription', you'll be able to secure these two incredible bonuses:
PREMIUM BONUS 1: Exclusive 4-part video series
The "Four Pillars" of our strategy – how to understand and profit from sustainable breakthroughs in the trillion-dollar industries that are the backrock of New World Investor:
The $4.92 trillion TRANSPORT industry…
The ENERGY market, where we've already seen stocks shoot up as high as 800%+…

Past performance is not a reliable indicator of future results

The global FOOD market, worth $8 trillion a year in revenue…
And the mammoth $125 trillion NATURAL RESOURCES MARKET.
In each video, we'll explain how the industry is being disrupted by climate tech, as well as where we think the biggest financial opportunities can be found right now.
This training series is valued at £200, but it's yours if you choose to take our Premium membership.
PREMIUM BONUS #2: A clean tech investor's guide to UK brokers
In New World Investor, we will be looking at climate tech markets all over the world.
In this report, we'll take you through the major stock brokers you may be dealing with, as well as the key things to keep in mind when selecting the right broker for your strategy.
This guide is valued at £50, but it's yours when you claim PREMIUM membership to New World Investor.
You'll find the details at the bottom of this page.
What's more, your entire first 60 days is covered by my money-back guarantee.
That means you risk nothing at all in terms of subscription fees. You'll have the time to see our work, watch the special investment videos we have produced for you, review the investments on our buy list… and then decide if you want to stay on.
If you decide that New World Investor is not for you – at any time within your TWO-MONTH trial period – no problem. You can contact us and get your money back in full.
I hope you agree with me that this is a no-brainer of a deal, if you're interested in claiming your part of this world-shaping financial opportunity.
There's still time to get this limited-time deal – but not much.
So, if you want to come on board, take up this offer now.
Just select the level of membership you want below, detailsfill in your details in the secure order form below and then hit "Subscribe Now" to get started.
Or if you'd prefer to order over the phone, call our team on 0203 966 4580 (open 9 am – 5.30pm, Monday to Friday) and quote .
Would you like to pay by:
Important note: Your subscription comes with our automatic-renewal feature. This feature ensures that you will never miss an issue. Currently New World Investor renews at £199 per year. You may opt out of this auto-renew feature at any time after your purchase.
Secure Order Form
fields with (*) are mandatory
By clicking Pay Now, you agree to be bound by our terms and conditions, which can be viewed by clicking the link at the bottom of the page
Important Risk Warning:
Advice in New World Investor does not constitute a personal recommendation. Any advice should be considered in relation to your own circumstances. Before investing you should consider carefully the risks involved, including those described below. If you have any doubt as to suitability or taxation implications, seek independent financial advice.
General – Your capital is at risk when you invest, never risk more than you can afford to lose. Past performance and forecasts are not reliable indicators of future results. Bid/offer spreads, commissions, fees and other charges can reduce returns from investments. There is no guarantee dividends will be paid.
Small cap shares - Shares recommended may be small company shares. These can be relatively illiquid meaning they are hard to trade and can have a large bid/offer spread. If you need to sell soon after you bought, you might get back less that you paid. This makes them riskier than other investments. 
Overseas investments - Some shares may be denominated in a currency other than sterling. The return from these may increase or decrease as a result of currency fluctuations. Any dividends will be taxed at source in the country of issue.
Funds – Fund performance relies on the performance of the underlying investments, and there is counterparty default risk which could result in a loss not represented by the underlying investment.
Exchange Traded Funds (ETFs) with derivative exposure (leveraged or inverted ETFs) are highly speculative and are not suitable for risk-averse investors.
Taxation – Profits from share dealing are a form of income and subject to taxation. Tax treatment depends on individual circumstances and may be subject to change.
Editor: Kit Winder. Investment Director: James Allen. Editors or contributors may have an interest in shares recommended. Information and opinions expressed do not necessarily reflect the views of other editors/contributors of Southbank Investment Research Limited. Full details of our complaints procedure, privacy policy and terms and conditions can be found at, www.southbankresearch.com.
New World Investor contains regulated content and is issued by Southbank Investment Research Limited.
Registered in England and Wales No 9539630. VAT No GB629 7287 94. Registered Office: 2nd Floor, Crowne House, 56-58 Southwark Street, London, SE1 1UN.
Southbank Investment Research Limited is authorised and regulated by the Financial Conduct Authority. FCA No 706697. https://register.fca.org.uk/.
© 2022 Southbank Investment Research Limited.